Period
August 19th – October 15th, 2017
*Preview for invitees: August 18th, 2017
Hours
Nijo Castle open every day from 8:45 a.m. – 5 p.m. (Last admission: 4 p.m.)
Kyoto Art Center open every day from 10:00 a.m. – 8:00 p.m.
Nijo Castle (Nijo-jo)
This castle in Kyoto was constructed by the Tokugawa shogunate during the Edo period (1603–1868), first in 1603 by the first shogun, Ieyasu, and then enlarged in 1626 by the third shogun, Iemitsu. It was later used to house the Kyoto prefectural government and as a villa for the imperial family. Its grounds, surrounded by a moat stretching approximately 500 meters east to west and approximately 400 meters north to south, are a designated National Historic Site and were also registered as a UNESCO World Heritage Site in 1994 as one of the Historic Monuments of Ancient Kyoto. The existing Ninomaru Palace (a National Treasure) comprises six buildings made in the shoin-zukuri architectural style that offers a sense of the sophistication of Momoyama-period art through its sculptures and ornaments. Inside there are 3,600 wall paintings by artists of the Kano school, including 1,016 designated Important National Treasures. Ninomaru Palace overlooks Ninomaru Garden (a designated Special Place of Scenic Beauty), which was renovated by Kobori Masakazu. In 1788, Honmaru Palace was destroyed by fire and replaced by the former Katsura Palace (an Important National Treasure) that was relocated from the Kyoto Imperial Enclosure. Nijo Castle occupies a unique position in the history of the Edo-era shoguns, hosting both the celebrations to mark the start of the first shogun's reign and also the last shogun's transfer of power to the emperor in 1867, which is exactly 150 years ago in 2017.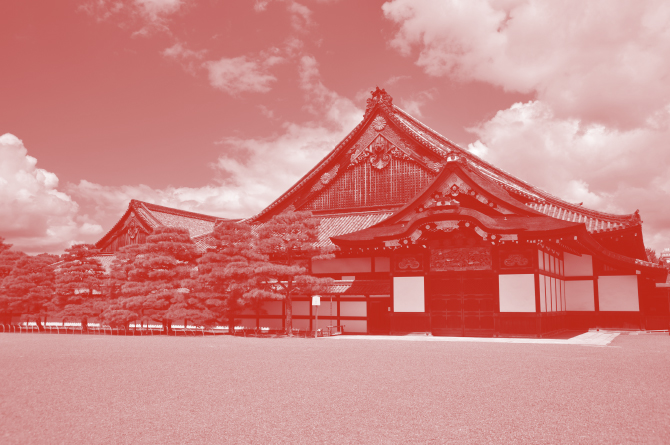 Kyoto Art Center
Kyoto Art Center opened in April 2000 as a place for artists and people connected to the arts to carry out their activities, aiming to comprehensively promote art in the city of Kyoto. Alongside supporting activities related to art and spreading information about art widely, it organizes a broad range of projects aspiring to create interchange through art between residents and artists. Not only contemporary visual art, it also works with practitioners across many other fields, including traditional performing arts, music, theatre, dance, and crafts. It is actively involved with producing new work as well as furthering international exchange and disseminating information.
The building that houses the center is the renovated Meirin Elementary School and a superb example of modern architecture in the city, located in one of the districts in central Kyoto associated with the Gion Festival.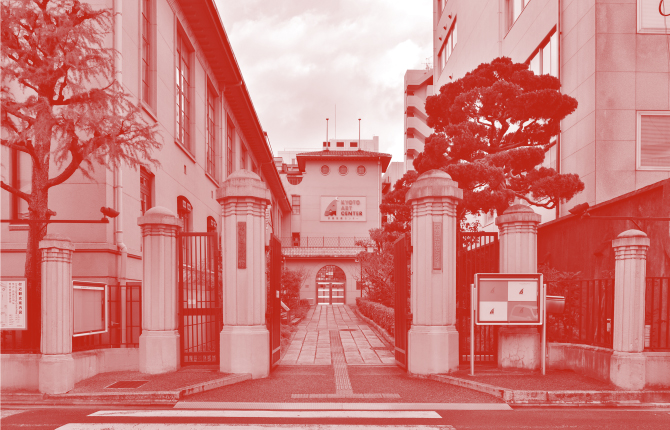 ACCESS
By train
From JR Kyoto station
Take Subway Karasuma Line, transfer at "Karasuma Oike" and get off at "Nijojo mae".
Take the bus No.9, No.50 or No.101 and get off at "Nijojo mae"
From Hankyu Karasuma Station
Take the bus No.12 or No.101 and get off at "Nijojo mae"
From Hankyu Omiya Station
Take a taxi, about 5 minutes.
From Keihan Sanjo Station
Take Subway Tozai Line and get off at "Nijojo mae" station.
By car
About 30 minutes from Meishin Expressway Kyoto East IC or Kyoto South IC.
One-day pass of Kyoto City Bus
With this ticket you can take the bus as many times as you want for the duration of one day (flat-fare routes only). A one-day pass will benefit you if you plan on taking the bus 3 times or more in a day.
Purchase in advance is possible. The date will be printed on the back of the ticket the first time you put it through the ticket gate.
Buses bound for Takao, Katsura, and Ohara run outside flat-fare zones as well.
TICKET
|   | ADVANCE | DOOR |
| --- | --- | --- |
| Special Area Admission | ¥400 | ¥600 |
| Combination Tickets | ¥1,000 | ¥1,200 |
Special Area Admission
Combination Tickets
Advance

¥1,000

Door

¥1,200
A ticket is required for admission to the grounds of Nijo Castle to see the exhibits. A second ticket is required for admission to the special areas of the castle not ordinarily open to the public. Combination tickets are also available.
Advance Ticket available from June 1st – August 18th
Tickets on Sale from: Kyoto Art Center and other sites
Tickets cannot be purchased online.
Tickets on Sale from
Nijo Castle / Kyoto Art Center / ROHM Theatre Kyoto / Kyoto Concert Hall / Kyoto Tourist Information Center, Kyo-Navi *single ticket only / Kotochica Kyoto Station Tourist Information Center / Kyotoshi Kotsukyokukyoto Ekimae Information Center and other sites.